Driver Spotlight: Michael and Terry Hough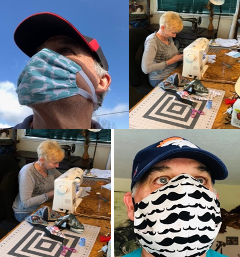 Long-time Morgantown residents Michael and Terry Hough started driving their Wednesday Meals on Wheels route in December. With the onset of the pandemic, Terry found another way to help: She has been making face masks for community members including the MOW cooks and volunteers . "So far, I've made about 70 or so. It's been a rewarding experience," says Terry, who retired in 2014 as Public Works Director for Morgantown. Michael, who retired in 2018 from WesBanco where he was a vice president, says being a MOW driver has introduced him to some streets and neighborhoods he never knew existed. "And I have met some great people both at MOW – those great ladies in the kitchen preparing all of those meals – and the fantastic clients," he says. "I've learned that for some clients, the drivers may be the only people they see all day so it's important to check and make sure they are okay."
Taking care of people during Covid-19 is a family-affair for the Houghs. Their son is a pathologists' assistant at Memorial Sloan Kettering Hospital in New York City.