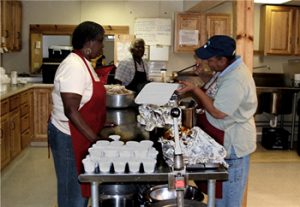 How to Cancel Meals
If you don't want a meal on a particular day, or will be out of town for several days, you can cancel your meal deliveries by phoning the Morgantown Area Meals on Wheels Kitchen at (304) 599-1954.
You must call by 8 AM to cancel delivery of a meal for that day. (Failure to call by 8 AM will mean that you will be charged for that day's meal.) If calling before 8 AM is not convenient, just call the night before and leave a message— be sure to give your name, and indicate the day(s)and dates you do not want meals delivered. The kitchen is open from 6:00 AM until Noon, Monday - Friday, but the answering machine is on 24 hours a day, 7 days a week and leaving a message on the machine is the best way to cancel a meal or ask a question.
If you're going to be away for several days e.g. over Christmas vacation, and don't know exactly how long you will be away, tell the MAMOW Kitchen when to stop delivery and that you'll let them know when to start again. It will be your responsibility to call the Kitchen and ask them to restart meal deliveries. Remember to call ahead or at least by 8 AM to get a meal on your first day back.
Unless you permanently cancel your MAMOW meals, you stay on the MAMOW "delivery list" and your delivery route drivers and the Kitchen will all continue to assume you will return. If you want to permanently cancel delivery of meals—because you've recovered from your temporary disability, are moving out of town etc., just let the MAMOW Kitchen know they should take you off the MAMOW "delivery list." (You could ask your contact person to call the Kitchen for you.) You will get a final bill for any unpaid meals.