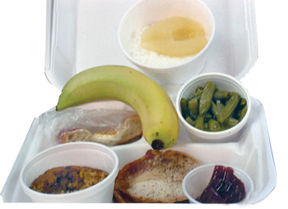 whole wheat bread
green beans
cottage cheese
pear
turkey and gravy
cranberry sauce
fruit cobbler
Applying for meals
If interested in receiving meals, please call the Morgantown Area Meals On Wheels Kitchen, 304-599-1954, indicating your interest. Someone is usually available to answer the phone between 6 AM and 12 Noon, Monday - Friday. Give that person your name, address and phone number and the interviewer for your area will call you back. If no one answers during regular hours or you call when the kitchen is closed, please leave a message on the answering machine, and we will return your call as soon as possible. You may also provide us your name, address and phone number by email, morgantownareamow@gmail.com, and the interviewer assigned to your area will get back to you. Please be sure to leave us your name, address and phone number so that we can send your message to the right person.
We also accept referrals from doctors, hospitals, social / health agencies and families.
Delivery Limitations
When we return your call, one of the first questions you will be asked is, "Where do you live?" This is to verify which delivery route you will be on. The Morgantown Area Meals on Wheels (MAMOW) delivers within a 10-mile radius of each of our three delivery centers: Goshen Baptist Church, Rock Forge Presbyterian Church and Star City Kitchen. Regretfully, if you live too far away from one of the centers, we will not be able to deliver meals to your home. We can not deliver in Pennsylvania.
Information We Will Need
If you live within our delivery area, your area Meals on Wheels interviewer will arrange to meet with you (and any others you wish to have present) at your place of residence to discuss your eligibility for meal delivery. There will be questions about your ability to shop and prepare meals for yourself and whether any disabilities you have are temporary or ongoing. (A broken leg is likely a "temporary disability," but a serious heart condition is likely an "on-going disability.") Even if you are able to get out and go places, that does not mean you are not eligible for meal services. You will be asked if you are diabetic or if you have other medical conditions such as allergies that affect what you can eat. All meals are planned by a registered dietitian. Meals on Wheels can accommodate most diabetic meals and some special diets, but you need to be aware that the dietitian will make the final decision about all meals that are served.
Your "Contact Person"
Your MAMOW interviewer will ask you to identify someone who can serve as your "Contact Person". This is a person who can be called in the event that we can't locate you or there is an emergency. A local contact person is preferable. All MAMOW clients must have a contact person and the interviewer will ask you for that person's phone number. A relative, neighbor, or good friend can be your contact person.  Please be sure your contact person knows MAMOW has been given their phone number as your contact.
Your Meal Cost
Your interviewer will also ask you about your "ability to pay" since meal charges are based on your financial situation. You will be asked about your sources of income—social security, pension, savings etc., as well as your monthly expenses for rent/mortgage, utilities, medical/pharmacy costs etc. and whether you have others dependent on you or living with you. (Note that everyone has different resources and expenses so the meal charges may be different even among those who live in the same apartment complex.) Remember the MAMOW goal is to make sure all who cannot prepare their own meals are provided with one nutritious meal a day at their place of residence. While it presently costs about $10.00 to prepare each meal at our kitchen, our clients are asked to pay at most $6.00 per meal for general and diabetic meals and $7.00 per meal for special diets such as gluten free, low salt or vegan. If you believe the standard meal cost is beyond your means, discuss this with the interviewer - you may qualify for a reduced fee. (Donations from individuals and organizations in the local community make up the difference.)
Billing
You will be asked to sign a form that shows the amount you will pay for each meal. You will be given a copy of the form, and a copy is turned into the office. Your copy has the price, kitchen phone number, and interviewer phone number so you can get in touch with us. KEEP THIS FORM HANDY!
Customers are billed at the end of the month for all meals delivered in that month. Payments are due by the 25th of the billing month.  Clients who pay their own bills can either put the payments in the mail or give them to one of the drivers to return to the kitchen. (Please do not put cash in the mail.) If you need to pay more frequently than once a month, please inform your interviewer and adjustments can be made.
Starting delivery
If you are satisfied with everything you have learned about Meals on Wheels from your interviewer, you will be asked when you want to start meal delivery and which weekdays you wish to receive them. Deliveries normally can begin within two days of your interview if needed.  You may select to receive meals daily Monday through Friday or to skip certain weekdays, depending on your needs and schedule.  Look for a volunteer drivers to bring your meals between 10 AM and Noon, weekdays according the the days you have selected.
Away at Delivery Time?
If you know you are not going to be home at the time your meal is normally delivered, leave a secure container outside your door for the driver to put your meal in.  Coolers work well to keep meals warm and secure.  Drivers are instructed not to leave meals unless they are protected.  If you prefer to have your meal delivered to a neighbor, write a note to that effect and leave instructions on your door. (Don't forget to tell your neighbor!)
If you find your return home is unexpectedly delayed, and you didn't leave your cooler out, you might call the kitchen and let them know so they can tell the driver what to do with the meal. Perhaps you could call a neighbor to watch for the MAMOW delivery. In general, if you are at all concerned that you might not be around during meal delivery hours, leave a cooler outside.
Canceling a Meal(s)
To find out how to cancel a meal if you will be away one or more days, click here.